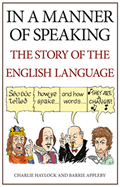 In A Manner Of Speaking is a fun and fascinating exploration of spoken English that amongst other things, answers questions why we have so many dialects, why it is that we don't all speak standard English and how our history has shaped our native tongue. It has been reprinted five times already! Also available in Kindle, Kobo and iBook formats. Check this link for Amberley Books!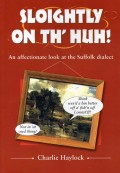 Charlie Haylock's first book, "Sloightly On Th'Huh!' was published in 2004 and was a surprise best seller. According to Ipswich Waterstones, it was the best seller in the whole shop that year, outselling "The Da Vinci Code" which topped most the best-seller lists that year! Due to the increased interest shown in the Suffolk dialect, following the release of "The Dig", Countryside Books relaunched 'Sloightly on th' Huh' on 1st March 2021.

Charlie produced his follow-up book two years later and that too was a smash hit in Suffolk and at the last count had sold over 20,000 copies!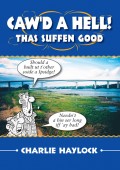 In 2008, Charlie came out with a third book, Caw'd a Hell, which sold so well in Waterstones that according to company rules, it had to be stocked in every branch in the country! It is fun to think what people outside the county made of the title!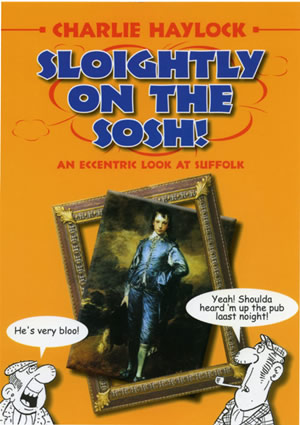 In 2012 Charlie came out with his fourth book and proved to be another success. Charlie had seven "sell outs" at his book signing sessions. It meant that some book shops were embarrassingly out of stock 'til a new delivery arrived.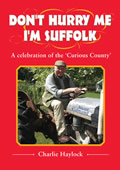 In 2013 Charlie came out with his fifth book. Suffolk has recently been rebranded, "The Curious County", and in Charlie Haylock's new book you will find out why and a great deal more. It's an ideal read for everyone ... from here in Suffolk to those further afield ... young and old alike . . . a wonderful collection of curious and intriguing stories.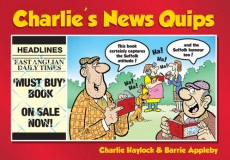 In 2015, Charlie teamed up with Suffolk's favourite cartoonist and illustrator, BARRIE APPLEBY. Together they have produced the lively and humorous cartoons, "Charlie's News Quips" printed in the East Anglian Daily Times every Saturday.
These cartoons have now been collected into a new book also called CHARLIE'S NEWS QUIPS. It is published by Countryside Books (£6.95)
Charlie's books (except for In A Manner of Speaking) are published by Countryside Books.