The Dig
July 2019 - Redmond Morris, 4th Baron of Killanin, co-producer for "The Dig", contacted Charlie Haylock wanting him to be the Suffolk dialect coach . . . and that Ralph Fiennes would be playing Basil Brown and would be contacting Charlie imminently . . Ten minutes later Ralph rang Charlie and after a short chat, an agreement was struck . . . and Suffolk dialect coaching was about to enter another level.
Within two days Charlie received the script for "The Dig" . . . and "Suffolkated" all the actors' lines including Ralph Fiennes'. Charlie re-wrote them phonetically in a Suffolk dialect and slipped in a few Suffolk phrases and words that everybody would understand.
Early August Charlie and Ralph went to the Quay Theatre in Sudbury . . . very early on, Charlie said, "You know I've got my work cut out, teaching you a Suffolk dialect?" and explained, that most actors when trying to portray a Suffolk accent end up sounding like West Country pirates . . . and that Suffolk people are generally sick and tired of hearing it.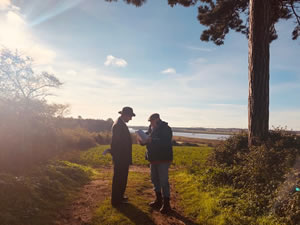 Ralph and Charlie had a number of Suffolk dialect coaching sessions at The Quay . . . Ralph very early on decided to remain in a Suffolk dialect all the time till filming was completed.
Ralph and Charlie went into cafes and some country pub public bars so Ralph could practice his Suffolk dialect with the locals . . . by doing this . . Ralph could not only hear the spoken Suffolk dialect . . . but also listen to the rhythm of the dialect . . . the intonations . . . the speed it was spoken, not very fast . . . and those famous Suffolk pauses.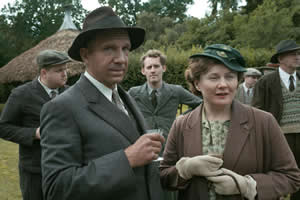 Early September Charlie ran two workshops for all the actors playing Suffolk roles including Monica Dolan who played Mrs. May Brown.
Mid September - filming started and was completed in mid November . . . . Charlie's initial contract was to be Ralph Fiennes personal coach . . stay close by on the first couple or three sets . . . make sure things went right . . . complete the two dialect workshops for the other actors . . and that would be it . . . . but, because the script was being continually altered, Ralph requested that Charlie stays on set throughout . . ..and Charlie remained on set whilst the "Suffolk" actors were being filmed.
One highlight for Charlie. . . Ralph suddenly stood and recited a soliloquy from Hamlet in a Suffolk accent . . . "It sounded fantastic and brought Shakespeare alive!"
As you can see below, Charlie's work was much appreciated! For even more, check out the feedback page!
Ralph Fiennes- I approached Charlie Haylock as I had watched some YouTube recordings of his talks on the History of Spoken English.

His ear for dialects is extraordinary. Being a Suffolk native, I hoped he'd be able to guide me to the right accent for Basil Brown - the famous Suffolk born archaeologist - who I was playing.

Charlie is a perfectionist and would correct me on anything that felt inaccurate. The challenge being especially to avoid sounding West Country. His pleasure when we (the Suffolk characters) got it right was tangible.

I loved that it was a matter of pride for Charlie that he wanted us to speak the Suffolk dialect accurately. Charlie's pleasure in the work made it one of the most fulfilling experiences.

However, I know there will be critical Suffolk ears listening.
Monica Dolan (Mrs May Brown) - "The dialect coaching was very thorough and what I loved was that Charlie would always correct me after a take even - and especially - if it was the same sound I was getting wrong every time. He always had faith that I could still get it right at least once! You have to be brave with those Suffolk sounds . . . . and whenever it sounded right I thought 'surely I must look like I'm eating the camera.' But those were the times Charlie would come up and say:'That was it!' Part of the interesting journey for an actor is that that which feels habitual isn't actually what's natural. We must learn when we are confusing the two".
Susanna Lenton - script supervisor - The best dialect coach is one who, through working with the technique & understanding of the roots of a dialect, allows an actor to find and play the inner truth of his character. The dialect and the dialogue become as one with the natural physicality & thought process and just the simple being of the character. Charlie absolutely achieved this with Ralph.
Having never worked on a film set . . . Charlie's approach was fresh & insightful - the result of a mind-boggling knowledge of Suffolk history. Detailed note taking on every take of every shot that Ralph was speaking in was impressive.
Charlie's gentle manner & dedicated approach to working with the actors was, I know, much appreciated by them. For myself, it was always fascinating to learn the stories about how the Suffolk dialect originated & evolved.
An endearing & hard-working presence on set and, off set, a humorous & expansive personality in the pub!