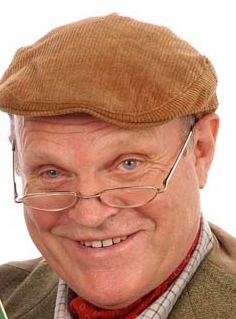 </span>Charlie Haylock is one of Suffolk's leading entertainers. His informative and hilarious one-man shows are legendary in the county and his books have all been best sellers.
Charlie can reduce audiences to tears of laughter with his story telling as anyone who has seen his "An Eccentric Look at Suffolk" and "An Eccentric Look at the Countryside" will tell you.
Charlie is not just a master of Suffolk dialect, he has the ability to speak in a variety of English dialects which is all the more interesting because he understands how each one is produced. A few years back, Charlie captivated the nation on the Simon Mayo show on BBC Radio 2 in which he efforltessly glided through the dialects of the UK in three minutes of radio magic!
But Charlie has a serious side and also gives highly enlightening talks, "History of Surnames" and "History of Spoken English". Although very informative, they are also very entertaining.
This website has been created to help you find out where Charlie is performing, to contact him if you want him to come and perform at one of your events, and generally to let you know what he is up to!
Check our list of events for dates and remember, you can catch up with him on the BBC iPlayer.
The Dig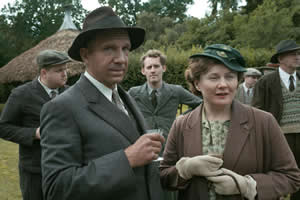 If you have seen Netflix's wonderful new film, The Dig, you may have been struck by just how good the Suffolk accents were! In particular, Ralph Fiennes and Monica Dolan (and thanks to Netflix for allowing us to use these pictures.) If you read the credits, you will have noticed a familiar name. The Suffolk dialect coach for The Dig was non other than a certain Mr Charlie Haylock!!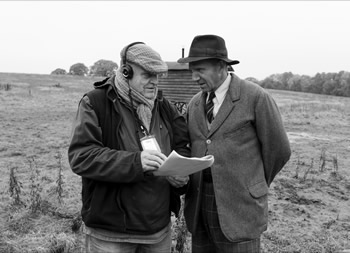 The great Ralph Fiennes had come across Charlie on YouTube and was so impressed that he insisted Charlie be brought in to help with the accent. And Charlie was incredibly impressed by Ralph's dedication not only to becoming Basil Brown but to the Suffolk dialect. They became good friends and some people have even suspected that Ralph unconsciously began to move a bit like Charlie!
We have a new page on this website dedicated to Charlie's experiences but he has also created a new talk, more details of which you can find on the "See Charlie" page. It could even be possible to arrange a talk with a screening of the film thanks to Charlie's friends at Netflix.
Medieval Mosaic Exhibition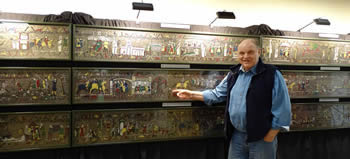 Charlie Haylock had seen an exhibition, when he was on holiday in Oxfordshire – a mosaic replica of the Bayeux Tapestry. It is the most stunning exhibition Charlie had ever seen, both from an historical point of view, and as an absolute artistic masterpiece.
As soon as Charlie saw it, he asked as to when the exhibition would be going to Suffolk and East Anglia. He was told that it was not being displayed anywhere near East Anglia. But Charlie recognised the importance of the mosaic replica, and decided he would try and get the exhibition to come to Suffolk – and he succeeded. It was on display in Unit 2, Riduna Park, Station Road, Melton, nr Woodbridge, IP12 1RT. Check out our new website page to learn from Charlie about the influence of Normans in Suffolk.
Other notable Charlie news: March 2017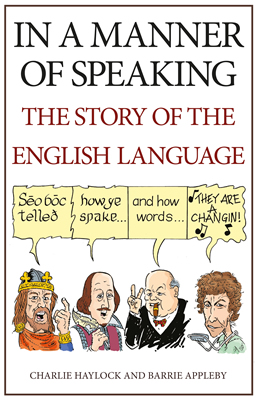 Charlie has teamed up with cartoonist Barrie Appleby once again to produce an exciting new book that will be available in all good bookshops (nationwide no less!) in March.
Check here for updates about the book, what it contains, where you can meet Charlie at signing sessions and much more besides.
In A Manner Of Speaking is a fun and fascinating exploration of spoken English that amongst other things, answers questions why we have so many dialects, why it is that we don't all speak standard English and how our history has shaped our native tongue. Funny, interesting and easy to read, it will also be available as a Kindle download, Kobo and iBook formats, in addition to a traditional book.
Hear Charlie at home!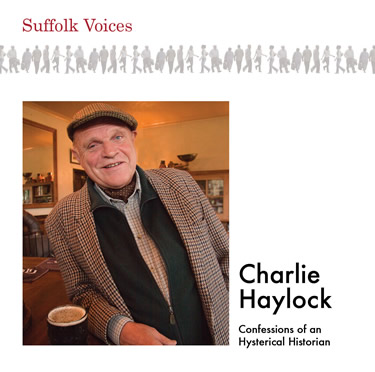 Charlie's first book, "Sloightly On Th'Huh" outsold Dan Brown's famous novel, The Da Vinci Code in Suffolk. But however good it is, a book on dialect that you can't hear is a bit like a volume on Leonardo without pictures!
Charlie has joined forces with Suffolk's premiere "Dialect on Disc" publisher, Sounding Board Productions to make a truly unique CD that combines autobiography, social observation, language history and of course, classic Suffolk story telling! And if you've ever wondered why Australians talk the way they do, Charlie, who is a mimic of rare genius, demonstrates why. It is rare that a lesson in linguistics is also great comedy!
For more details of the CD, and to hear an extract, check out this link.
Confessions of an Hysterical Historian costs £10.00 including postage and packing. You can order it securely online below. Don't panic when you check out and are asked for your Paypal login. Simply select the "Don't have a paypal account" option which allows you to pay safely by credit card.
If you would rather send a cheque, then please make it out to Sounding Board Productions, and send it to 11 Churchill Close, Woodbridge, Suffolk IP12 4AA And the good news is that the CD still costs only £10.00!