Charlie is a tireless performer with a commanding stage presence. He has a number of different shows and talks, including his classic all evening, "Eccentric Look at Suffolk". He has other popular shows that you might wish to book him for:
NEW TALK!!!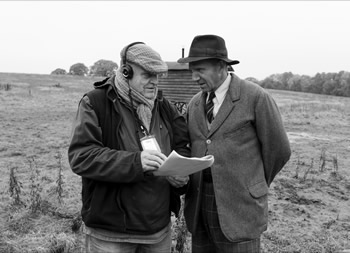 Charlie was personally chosen by the great Ralph Fiennes to be the dialect coach for the wonderful Netflix film The Dig. Charlie has created a fascinating new talk about his experiences preparing Ralph and the cast for their roles and Charlie will reveal the extraordinary lengths Ralph Fiennes took, not only to play Basil Brown, but to become Basil Brown!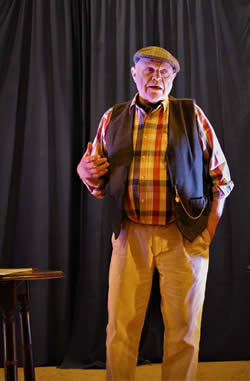 History of spoken English
This is not a talk on split infinitives, and what the differences are between the past participle and the past tense. Definitely not! Charlie shows how the seeds of spoken English was first sown, and how each invading force affected the English language with the different sounds they brought. Charlie includes a dialect tour of the British Isles, demonstrating the different facial expressions of each dialect. He also shows how some people he knows that lip read can tell what dialect a person has.
History of English Surnames
Charlie will talk about the Anglo-Saxon and Viking bynames and nicknames we had prior to the Norman Conquest. He will explain how and why surnames evolved after 1066 AD, and the disruption it caused. Charlie then enlightens the audience on the four different types of surnames which includes explaining the meanings of some of the surnames sitting in the audience.
This will be followed by Q&A
IMPORTANT!
Due to Covid 19 restrictions, many of Charlie's engagements in early 2021 have been postponed - except for his monthly chat on BBC Radio Suffolk, (which he does from home).
But, many organisations are starting to re-book their Charlie Haylock talks for later in 2021 . . . and Yes ! . . with some bookings in 2022 !
Charlie will be glad when we are given the "All Clear" and he can be on the road again doing what he likes doing best . . . standing in front of an audience delivering his informative and entertaining talks.
2021 - 2022 Bookings
Key
TD - The Dig - stories from behind the scenes
HOSE - History of Spoken English
HOSE-2 - History of Spoken English - Part 2
HOS – History of Surnames
ELS – Eccentric Look at Suffolk
ELEA – Eccentric Look at East Anglia
ELC – Eccentric Look at the Countryside
ADS – After Dinner Speech
OTP – Open to the Public
PF – Private Function
2021 - 2022

2021
February

Thurs 4th Feb - BBC Radio Suffolk - 3.30pm
March
Thurs 4th Mar - BBC Radio Suffolk - 3.30pm
April
Thurs 1st April - BBC Radio Suffolk - 3.30pm</p>
May
Thurs 6th May - BBC Radio Suffolk - 3.30pm
June
Thurs 3rd June - BBC Radio Suffolk - 3.30pm
Mon 21st June - Quay Theatre Sudbury - Suffolk Day Talk - OTP (Tickets on sale soon ! )
Tues 22nd June - Shotley Peninsula - Reunion Party - PF
July
Sat 3rd July - Stansfield Village Hall - "Charlie and The Dig" - OTP
Sun 4th July - Two Sisters Theatre, Felixstowe - Suffolk Day Talk - OTP
Fri 9th July - Stanwick W.I. - HOSE - PF
Wed 28th July - Sainsbury's Veterans - HOSE - PF
Sat 31st July - Fressingfield - after lunch talk - 60th Wedding Anniversary - PF
August
Sat 28th Aug - Framsden VH - ELS - OTP
September
Wed 1st Sept - South Woodham Ferrers U3A - HOSE - PF (afternoon)
Wed 1st Sept - Broadway Belles W.I. - Leigh-on-Sea - HOSE - PF (evening)
Thurs 9th Sept - Wickham Mkt W.I. - HOS - PF
Mon 27th Sept - Dalham and Gazeley W.I. - HOS - PF
October
Sat 2nd Oct - Melton Old Church - HOSE - OTP
Tues 5th Oct – Halstead U3A – HOS – PF
Thurs 7th Oct - Stanstead History Club - HOS - PF
Sat 9th Oct - West Hanningfield Church - HOS - PF

Thurs 14th Oct – Haverhill FHG – HOSE - PF
Fri 15th Oct - Glemsford W.I. - Charlie & "The Dig" - OTP
Mon 18th Oct - Sible Hedingham W.I. - HOS
Tues 19th Oct - Waltham Forest U3A - HOS - PF
Thurs 21st Oct - Trafalgar Day Talk - Shotley Peninsula - PF
Sat 23rd Oct - Royal Harwich YC - ADS - PF
Thurs 28th Oct - Beacon Wine Circle - HOS - PF
Fri 29th Oct – Bures Darby & Joan Club – HOSE – PF
November
Mon 8th Nov –W Suffolk NHS Retirement Fellowship - ELS - PF
Wed 10th Nov - Writtle Evening W.I. - HOSE - PF
Tues 16th Nov - Upminster U3A - HOSE-2
Thur 18th Nov - Old Ram Tractor Club - TG - PF
Fri 19th Nov - Carleton Rode Hist Group - HOSE - PF
Mon 22nd Nov - Bramford History Club - HOS - PF
Tues 23rd Nov - Watford Park U3A - HOSE - PF
Wed 24th Nov – Chorleywood U3A – HOSE - PF
December
Wed 1st Dec – Westerfield & Dist. Gardening Club – HOS – PF
Mon 6th Dec - Blackbourne U3A - HOS - PF
Tues 7th Dec - Townswomen's Guild - Hadleigh, Essex - HOS - PF
Wed 8th Dec - Felixstowe FHS & Museum – HOSE-2
Thurs 9th Dec - Stanford-le-Hope U3A - HOS - PF
2022
January
Fri 7th Jan – Tendring Dist U3A – HOS – Frinton (morning) - PF
Fri 7th Jan – Tendring Dist U3A – HOS– Holland-on-Sea (afternoon) - PF
Fri 15th Jan - Limebrook U3A - HOS - PF
February
Wed 9th Feb - Ware U3A - HOS - PF
March
Tuesday, 8th Mar - Maulden W.I. (Beds) - HOSE - PF
Wed 9th Mar - Havering U3A - HOS - PF
Tues 15th Mar - Waltham Forest U3A - HOSE-pt2 - PF
April
Sat 2nd April - Melford Bull Ramblers - ELSE - PF
Mon 11th April - Bishop's Stortford U3A – HOSE– PF
Thurs 21st April – Old Buckenham W.I – HOSE – PF
May
Mon 23th May - East Suffolk U3A - HOS - PF
July
Tues 19th July - St Neot's U3A - HOSE - PF
Fri 1st July - Southwold Arts Festival - Charlie and "The Dig" - OTP
Thurs 21st July- Watton U3A - HOS - PF
Mon 25th July - Hutton U3A - ELC - PF
November
Wed 9th Nov - Havering U3A - Charlie & The Dig - PF
Mon 14th Nov - Bishop's Stortford U3A – HOS– PF
Key
TD - The Dig - stories from behind the scenes
HOSE - History of Spoken English
HOSE-2 - History of Spoken English - Part 2

HOS – History of Surnames

ELS – Eccentric Look at Suffolk

ELEA – Eccentric Look at East Anglia

ELC – Eccentric Look at the Countryside

ADS – After Dinner Speech

OTP – Open to the Public