Charlie is a very modest fellow but we can't help sharing with you some of the positive comments he receives.
For example, this is quoted (with kind permission) from a letter following his highly successful performance in Westhall Village Hall in April 2010.
Dear Charlie
"What a great night ..."; "...we just didn't stop laughing ....;" "...my jaw ached with so much laughing ..." "I'm not supposed to have a sense of humour and yet I was crying with laughter much to my husband's delight!!" ; "it wasn't just funny it was interesting as well .."; "what talent"; and so it goes on! These are only a few of the comments made to me this past week. Yes, everyone who came to the Village Hall in Westhall last Saturday experienced one of their most enjoyable evenings out. Thank you so much for being the provider of so much entertainment and at the same time explaining so much about the history of our Suffolk dialect...................................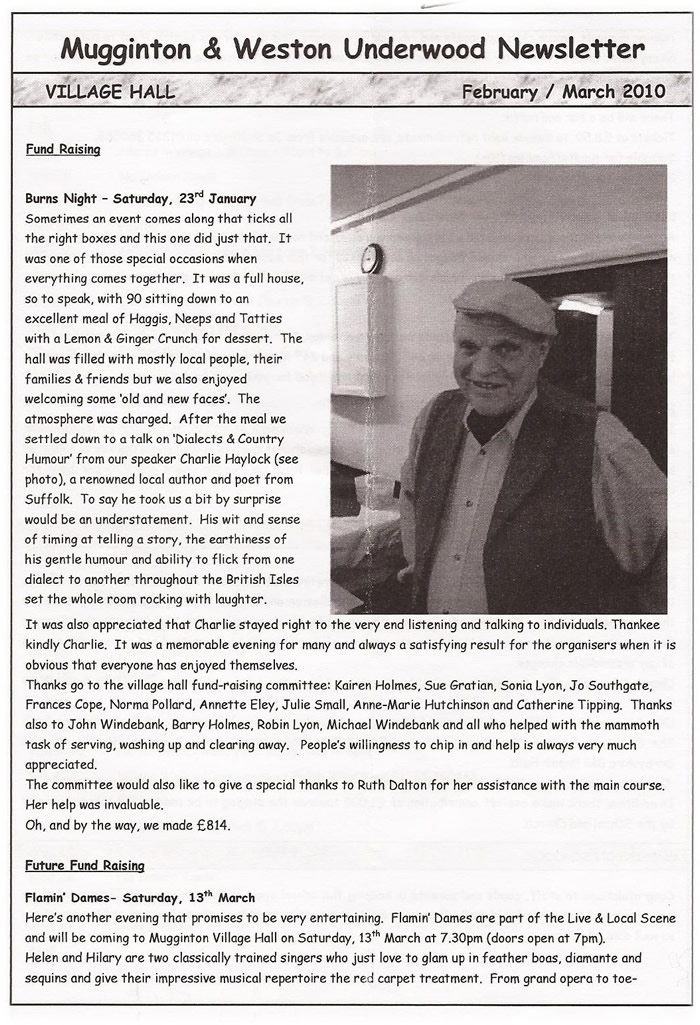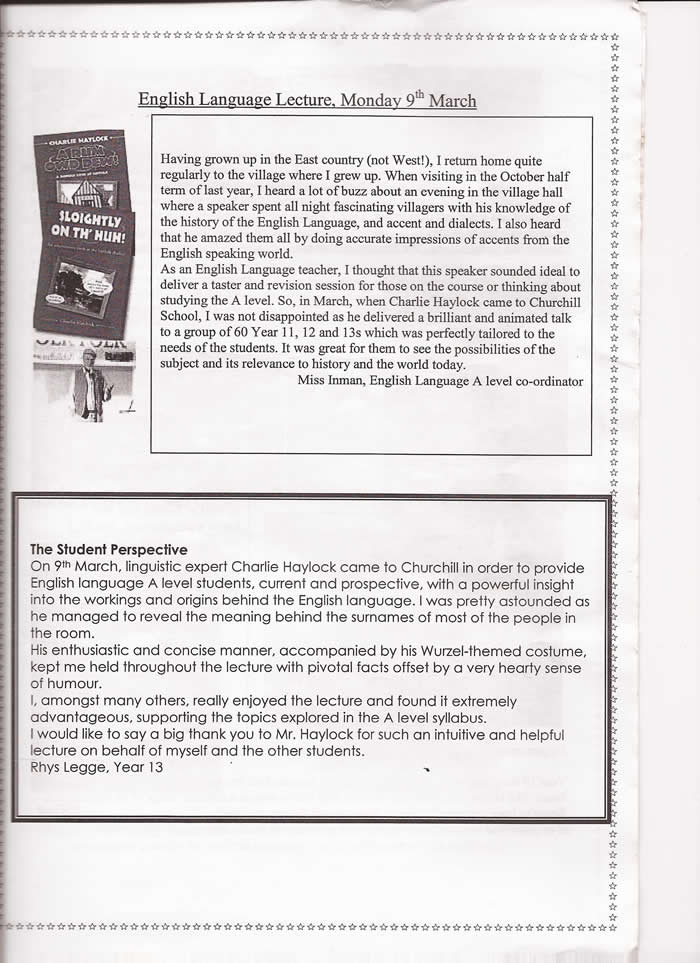 February 2012
Dear Charlie,

I surprised my dad tonight by bringing him to your show knowing that he loved your books and cd & I wasn't really sure what to expect but I ended up having an amazing night which I thoroughly enjoyed! I really hope that you will be doing another performance really soon in Parham or one of the surrounding villages as I enjoyed it so much I would love to see it again! The jokes and stories I thought were brilliant and I enjoyed finding out about the historical and local facts! Thanks for a brilliant night out and a lot of laughs!

Many thanks
P.
Thanks for a brilliant evening at our awards dinner. I cant remember when I have laughed so much, or seen so many people laughing, a truly wonderul experience. Whilst talking to you over dinner I am sure I learnt more about the suffolk languge than I had learnt in a life time.
K.
March 2012
Hello Charlie,
I am writing to say how much we enjoyed the programme you presented at The Shotley Village Hall last Friday evening. We feel the audience response was very good and we have had some very nice comments to say how much they enjoyed the evening. The whole event went very smoothly.......................................
Dear Charlie,

I am passing on a heartfelt Thank You from the Chairman and Committee
of Polstead Village Hall for the wonderful evening of entertainment
you provided for us last Saturday. I am quite sure that you must have
been aware from the reaction of the audience, how much everyone
enjoyed your stories and humour.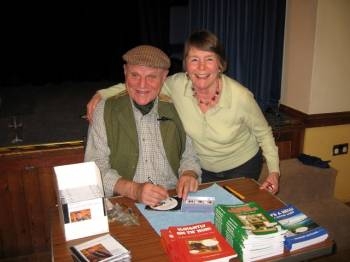 We really appreciate your added generosity of donating your royalties on book sales and the copy of your book for the Raffle.
The event raised a grand total of £543.20 (after expenses) which is a great result from an audience of abut 60 people.

I am attaching the photograph I took of you with Mary Dodwell, which I have sent, along with a short report of the event, to be published in the next issue of LSPN Community News.

Best wishes, Helen Constance
April 2012
Dear Charlie,
On behalf of Bulmer Village Hall Management Committee I would like to thank you for the wonderful evening we had with you last Friday. The feed back we have had has been fantastic and every single person there had a night to remember.My husband and I were still laughing the next morning! I hope you felt that your audience were "with you" throughout. Looking around I could not see a single person who was not hanging on to your every word.
We send you our very best wishes and many thanks for a night to remember.
With kind regards, Maggie Skipper
Dear Mr. Haylock,

I would like to thank you for your ' One Man Show ' on an Eccentric Look at Suffolk last Thursday evening at St.Edmunds Golf Club.

So many people who attended the evening have said 'what an enjoyable evening they had'.

Thank you again for making the event a memorable evening.

Helen O'Connell.
Dear Charlie,
WOW! What an evening - I haven't laughed like that when my sides ache for many years - and judging by the decibels of laughter in the audience I don't think others had either. Obviously laughter is the best medicine - and it was good to see people's expressions of cheerfulness on leaving the church to go home - makes a change.
You are obviously a man of many talents - it was really interesting to hear the different accents/dialects from different counties, and I had no idea there were variations in accent even in our own county of Suffolk. Fascinating to hear the links with Australia and New Zealand etc. And you could demonstrate it all so brilliantly.
I loved the poems and the stories, and could have heard them all over again, and good to hear things all in Suffolk! I'm glad to have a book and a CD to remind me.
I hope you will keep people laughing for many years to come - you're brilliant at it, and it does us all so much good.
With our sincere thanks and appreciation,
Alison and Brian Jones.
May 2014
Dear Charlie
Many many thanks for the fantastic evening you provided at Raydon. . . . . It really was a huge success and all agreed it was the best . . . funniest . . . and most memorable evening we can remember at the Hall. . . . . . The committee held a meeting last night and we all agreed that your event had really made a mark on the village. . . . . One of the older ladies suggested that we should have put down absorbent chair covers! . . . . . . . . On behalf of the Raydon Village Hall Management Committee, . . . . . . we wish you all the very best. Darren.
August 2014
(After Charlie's talk on the history of the English language to Wissey U3A)
Dear Charlie,
A huge thank you for your presentation today. I have had so many favourable comments from Wissey U3A members - your talk was excellent, educational, humorous, light hearted, with good visual displays. What more could anyone want?
Linda (on behalf of Wissey U3A)
August 2015
Morning Charlie

Just a note to thank you so much for yesterday afternoon, it was a brilliant talk. It was so lovely to hear so much laughter in the hall and everyone has said how much they enjoyed it. Personally I don't think I have laughed so much for a long time.

Hope you had a good journey home.

Regards

Diane