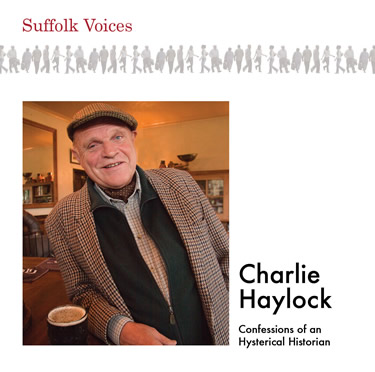 November 2010 saw the launch of a unique CD called "Confessions of a Hysterical Historian" which shows off Charlie's talents to the maximum. It is published by Sounding Board Productions as part of their Suffolk Voices series which is committed to presenting East Anglian dialect on disc in inventive and creative ways. Charlie's CD has been produced by professional radio man Nicholas Jenkins and combines autobiography, language history and classic Suffolk story telling, with authentic music drawn from the famous Laxfield Low House where Charlie had some of his earliest experiences as a performer
To give you a flavour this is how the CD opens!
But besides getting to know Charlie better, you'll learn about the Suffolk dialect, hear some side-splitting Suffolk yarns and accompany Charlie on a trip through the dialects of England, before finishing up in Australia and New Zealand, in a tour-de-force that demonstrates Charlie fantastic skills as a mimic.
Please check out other dialect CDs produced by Sounding Board Productions. If you want to order the CD over there, don't worry: our two sites are linked!
Confessions of an Hysterical Historian costs £10.00 including postage and packing. You can also order it securely online below. Don't panic when you check out and are asked for your Paypal login. Simply select the "Don't have a paypal account" option which allows you to pay safely by credit card.